Thank you for taking the time to visit my website. I own a herd of LaMancha dairy goats and my sister, Jennifer, raises Saanen dairy goats. We are located in Leavenworth, KS. Our herd has grown from a small 4-H project into an open competitive program. We have had several does appraise in the 90's; several permanent champions, and we try to compete annually at the ADGA National Show; our does are also on a DHIR testing program; and I was a licensed ADGA judge for 4 years. I am very proud of my does' accomplishments, and I hope you will check back often for updates. Please feel free to contact me with any questions you may have.
- Megan
---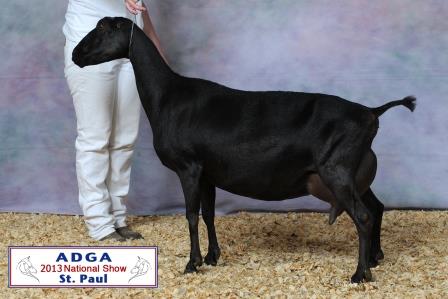 GCH Jen-Mae-Ka Kids Jaycee: LaMancha Reserve Grand Champion and Reserve Best Udder 2013 ADGA National Show
1st place Best 3 Senior Does (Jaycee, Kiwi, Kala) 2013 ADGA National Show
GCH Jen-Mae-Ka Kids Kala Best of Breed at the District 5 LaMancha Specialty
---
CHECK OUT OUR CURRENT NEWS FOR 2015 SHOW RESULTS
SEE THE SALES PAGE FOR AVAILABLE BUCKLINGS AND DOELINGS
THANK YOU TO EVERYONE WHO HAS PURCHASED A JEN-MAE-KA KID!